Our business centers on guesthouse weddings that are hosted privately in mansion-like settings dedicated to weddings to offer customers a homey atmosphere, freedom of expression, and sense of originality.

(As of October 31, 2022)

Guesthouse-style weddings—in which the ceremony and reception are held privately at venues with both a chapel and garden—are increasingly popular.
To meet this need, our company provides regional wedding facilities in natural settings.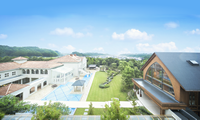 Verdant garden and homey atmosphere
Feel the freedom of our spacious and verdant gardens that make full use of land available nowhere but regional cities. Guests are entertained in a homey atmosphere with magnificent natural views that cannot be found in large metropolitan areas.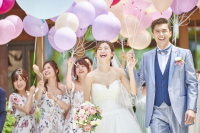 Bride and groom with the freedom to express themselves
Our weddings give form to the bride and groom's hopes and dreams and allow the couple to express themselves freely according to the season and climate. Attention to detail is seen not only in the design of our venues but also in the interior furnishings and facilities.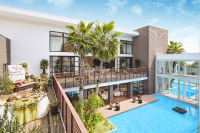 A private mansion-like setting for the happiest memories
Our mansion-like venues offer private, out-of-the-ordinary spaces unlike hotels and restaurants. Treasured guests can be entertained while creating once-in-a-lifetime memories of life's happiest moment.
La La Chance Geihinkan (Kochi)
La La Chance HIROSHIMA
Geihinkan(Hiroshima)
La La Chance OKAZAKI Geihinkan (Okazaki)