1. Principled Management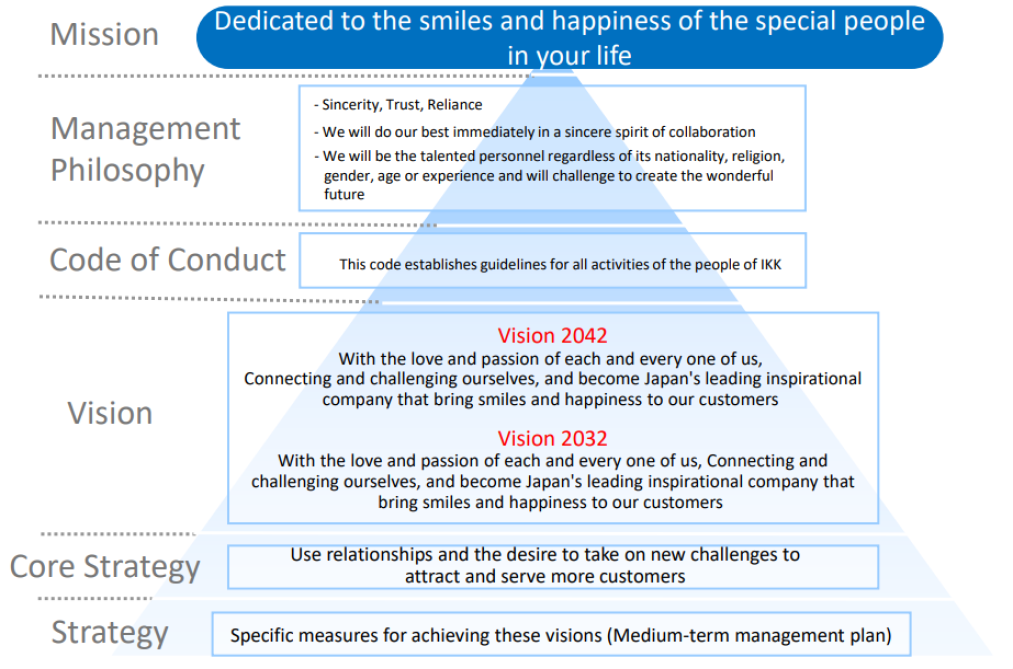 Our company's competitiveness originates in Dedicated to the smiles and happiness of the special people in your life" as we put our management philosophy into practice. Our incontrovertible principle of action is what distinguishes our company from all others. Shared by all our employees, this philosophy creates a strong organization with healthy morale and allows us to formulate strong strategies and tactics.
2. Venue Strategy Centered on Regional Cities
IKK is operating 19 wedding location in 17 cities from the core Kyushu region, as shown below. Regional cities have less competition and make it possible to contain running costs while maximizing the know-how and hospitality we have cultivated in smaller-scale areas. Also, compared to major metropolitan areas, people in regional areas share tight-knit relationships. As a result, the number of invited guests tends to be greater than at ceremonies and receptions in big cities. This is why latent demand in regional areas has great potential.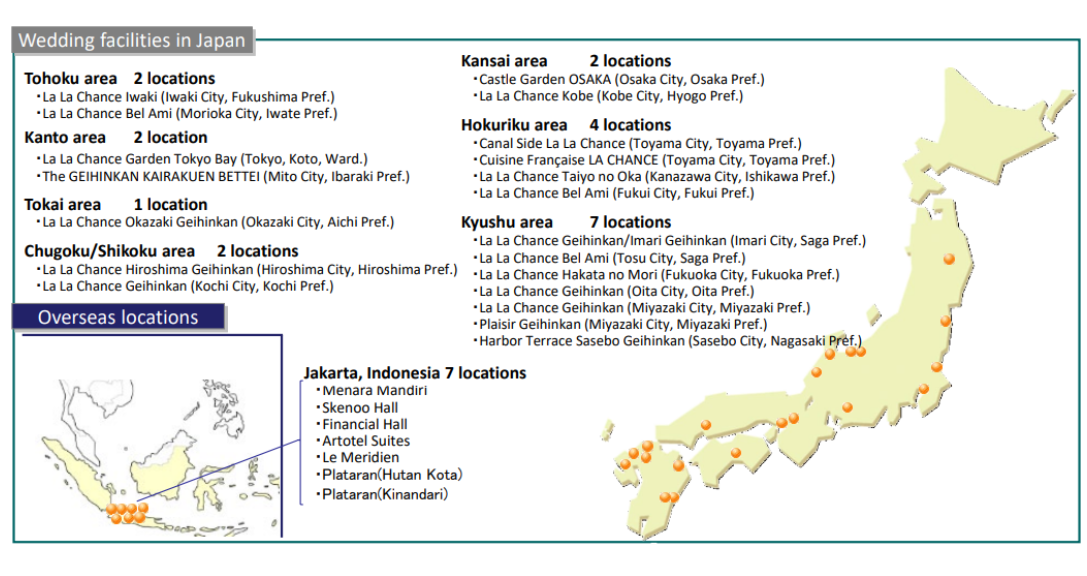 3. High Quality Products
(1) Cuisine
- IKK's Fukuoka branch obtained ISO22000 certification, the international standard for food safety management, a first for the hotel industry/wedding industry
- Two of the restaurants run by them are listed as Michelin 1-star restaurants
- Some of our chefs have won silver medals at global cooking competitions
- Our venues are equipped with open kitchens that serve food at just the right time


(2) Production
IKK's wedding planner were awarded at the Good Wedding Award by Bridal Souken in two consecutive years.
the Good Wedding Award 2014

the Associate grand Prize

the Good Wedding Award 2015

the Creative Prize
(3) Photography
IKK has an excellent track record in wedding photography and has won several prizes in Wedding Photo Contests held in Japan.IKK won the Excellent Prize in the 18h "Zexy Wedding Photo Contest."
Excellent Prize in the 18th "Zexy Wedding Photo Contest"