IKK's Human Assets
Based on the idea that people are valuable assets, our company has standardized use of the expression "human assets" instead of "human resources" when referring to our employees.
We promote and engage in various initiatives for the development of human assets based on our management philosophy.
Human Asset Development
1. Philosophy Booklet
Our philosophy booklet contains:
(1) IKK's underlying philosophy for all of our management activities
(2) What makes dreams, hopes, and ideals possible
(3) All of the criteria for our management philosophy
These can all be found in our booklet that can be carried and viewed by our employees at any time. We encourage actions based on our management philosophy of "touching our customers' hearts" to contribute to the formation of good corporate culture and practices.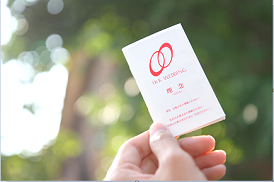 2. Philosophy Study Sessions
All IKK branches hold philosophy study sessions twice a year. These study sessions offer employees the opportunity to learn and think deeply about the management philosophy that forms the basis of IKK's management.
Training at these sessions is mainly conducted by members of our Vision Project.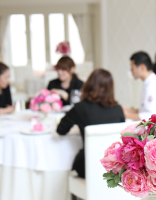 3. Study Sessions to Learn Anthropology Using Monthly Periodicals
IKK holds in-house study sessions at each of its branches, using the monthly periodicals "Rinen to Keiei (Philosophy and Management)" and "ChiChi (Acquire Knowledge)." Held on the third and fourth Thursdays of each month, these events are attended by staff from many departments, including wedding planners, wedding stylists, photographers, kitchen staff, and cleaning staff. Not only do these study sessions contribute to the self-development of our employees, they also allow for exchanges between departments that rarely interact with each other, contributing to the formation of an open and good corporate culture.